The Dickey Group appreciates and supports our community.  The Dickey Group has made numerous financial contributions to local organizations. We review each situation on a case-by-case basis.  Should your organization be involved in community development or charitable endeavors, please contact us.  We will seriously consider all requests. We have made contributions to the following organizations:
Highland County 4-H Youth
Local FFA Charters
Whiteoak Athletic Boosters
Relay for Life – Cancer Walk
Numerous Local Churches
S.A.T.H. – Supplementary Assistance to the Handicapped
Alzheimer's Association – Memory Walk
Hope House Christian Counseling Center
Annual Festival of the Bells – Christian Concert
Highland County Chamber of Commerce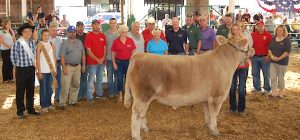 We are a regular supporter of Highland County 4-H Youth. Above is a photo of Jeff and other area supporters at a Highland County 4-H Beef Sale.